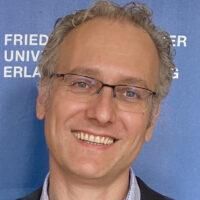 Tim Weyrich
As of October 2021, I hold the chair of Digital Reality at Friedrich-Alexander University Erlangen-Nürnberg (FAU). In addition, I remain Professor of Visual Computing in the Virtual Environments and Computer Graphics group at the Department of Computer Science, University College London, a position I held since 2008. In an earlier life, I was a Postdoctoral Teaching Fellow of Princeton University, working in the Princeton Computer Graphics Group, a post I took after having received my PhD from ETH Zurich, Switzerland, in 2006. My research interests include content creation, computational photography, appearance modelling and fabrication, point-based graphics, cultural heritage analysis and digital humanities.
I am a member of the executive committee of Eurographics; member of the steering boards of the Eurographics Workshop on Graphics and Cultural Heritage and of the UCL Centre for Digital Humanities; steering committee EPSRC Doctoral Training Centre of Science and Engineering in Arts, Heritage and Archaeology (SEAHA). I serve as Associate Editor for IEEE Transactions of Visualization and Computer Graphics (TVCG) and am a member of the Association for Historical and Fine Art Photography (AHFAP), special interest group Libraries & Archives Imaging; member of EPSRC College, BCS, ACM SIGGRAPH, Eurographics and of Gesellschaft für Informatik.
Past roles include associate, and then deputy director of the UCL Centre for Digital Humanities (2014–2021); coordinator of the Innovate Training Network (ITN) DISTRO; lead of the REF2021 team of UCL Computer Science; programme director MSc ICT Innovation at UCL; UCL's university contact within EIT Digital and co-designer of the EIT Digital Master and Doctorate Schools; Associate Editor of Computer Graphics Forum and of Elsevier Computer & Graphics; member of UCL's Athena SWAN Committee Computer Science; departmental Study Abroad and Affiliate Tutor.
For research interests and past publications, see my home page.